Discover MINT™
MINT™ is the latest news in Korean beauty that can deliver natural results without invasive surgery. Why stress out about your skin when you can look refreshed and rejuvenated in no time?MINT™ stands for Minimally Invasive Non-surgical Thread.
It is a unique absorbable thread designed to approximate and fixate sagging tissues. The thread is made from a complex sugar polydioxanone or PDO - a safe suture material that has been used in orthopedic and cardiovascular surgeries for over 30 years. Treatments involve minimal pain and minimal downtime, and the results can be seen immediately, so you can look and feel your best in no time. It's time to stop worrying and start rejuvenating! 
How do I know if I am a good candidate for MINT™ PDO?
For the most optimal results, the ideal candidate should have a skin layer that is not too thin or too thick and not extremely uneven. The skin should be thin enough so MINT™ PDO can make a visible difference and thick enough so the threads are not too close to the surface of the skin.
One way to check before a consultation with your provider is to lay down on your back and see if you like the way your face looks, as it can be a good indicator of how effective MINT™ PDO can be. Lastly, please consult with the physician if you are an optimal candidate for MINT™ Procedure.
How safe is it?
MINT™ threads are made from a complex sugar polydioxanone or PDO - a safe suture material that has been used in orthopedic and cardiovascular surgeries for over 30 years. Not only that, MINT™ is also backed by more than 6 years of published studies for its  safety and is the first and only PDO suture in the US market to have received dual FDA clearances.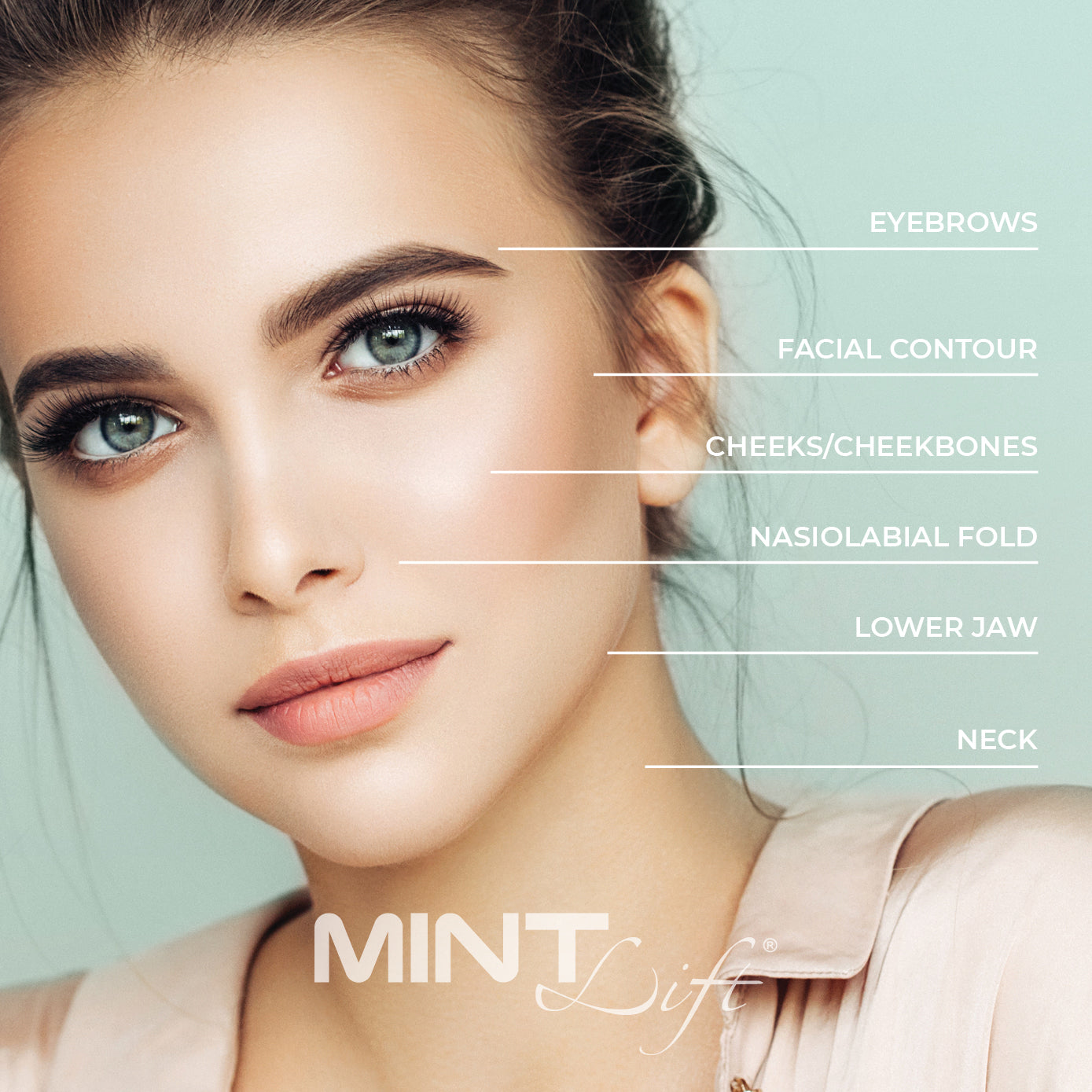 What kind of results can be achieved with MINT™ PDO?
MINT™ PDO results are immediate. You do not have to wait weeks and months to see your results. Although individual results may vary, common results achieved with MINT™ PDO include:
• Heart shaped, higher cheekbone contour
• Exotic, cat eye contour
• Snatched, defined jaw line
• Softer smile lines
• Softer eyebrows
• Smoother neck lines
Benefits of MINT™ PDO 
• Long-lasting results
• Little risk of adverse reaction
• Little to no downtime
• Minimal to no scarring
 • No incision
• Treats several areas of the face and body
• May be repeated as necessary
• Softens sagging, folding, or hollowing in the mid-face
• Softens jowls along the jawline
• Excellent alternative to surgical options
Collagen and elastin are the vital proteins that make up the supporting structure of the skin and keep it looking firm and youthful. However, as you age, it takes a longer time for your body to produce them which contributes to sagging skin and wrinkles. Heavy nasolabial folds, deepened smile lines, jowling, sunken cheeks - all these features can make you appear older and more tired. Prevention is the best way to maintain your skin's firmness and elasticity, but what can you do if you're already experiencing the effects of aging?
Reserve An Appointment

Frequently Asked Questions
MINT™ PDO is a great procedure to get in conjunction with other treatments such as lasers, PRP, injectables, BOTOX®, and fillers. The threads can be used to target sagging skin and fillers can be utilized for deep lines to create an overall youthful appearance to the face. Ask your provider to learn more about treatment combinations to maximize the effects of MINT™ PDO. 
The procedure takes an average of one hour but can take anywhere between 45 minutes to 90 minutes. Patients will see immediate results after the procedure that can last up to 1 year. We recommend patients to consult with their providers prior to the procedure day to discuss the look they desire and the results they can expect. 
Your cost will vary based on your individual aesthetic goals and the treatment plan your aesthetic provider designs for you.