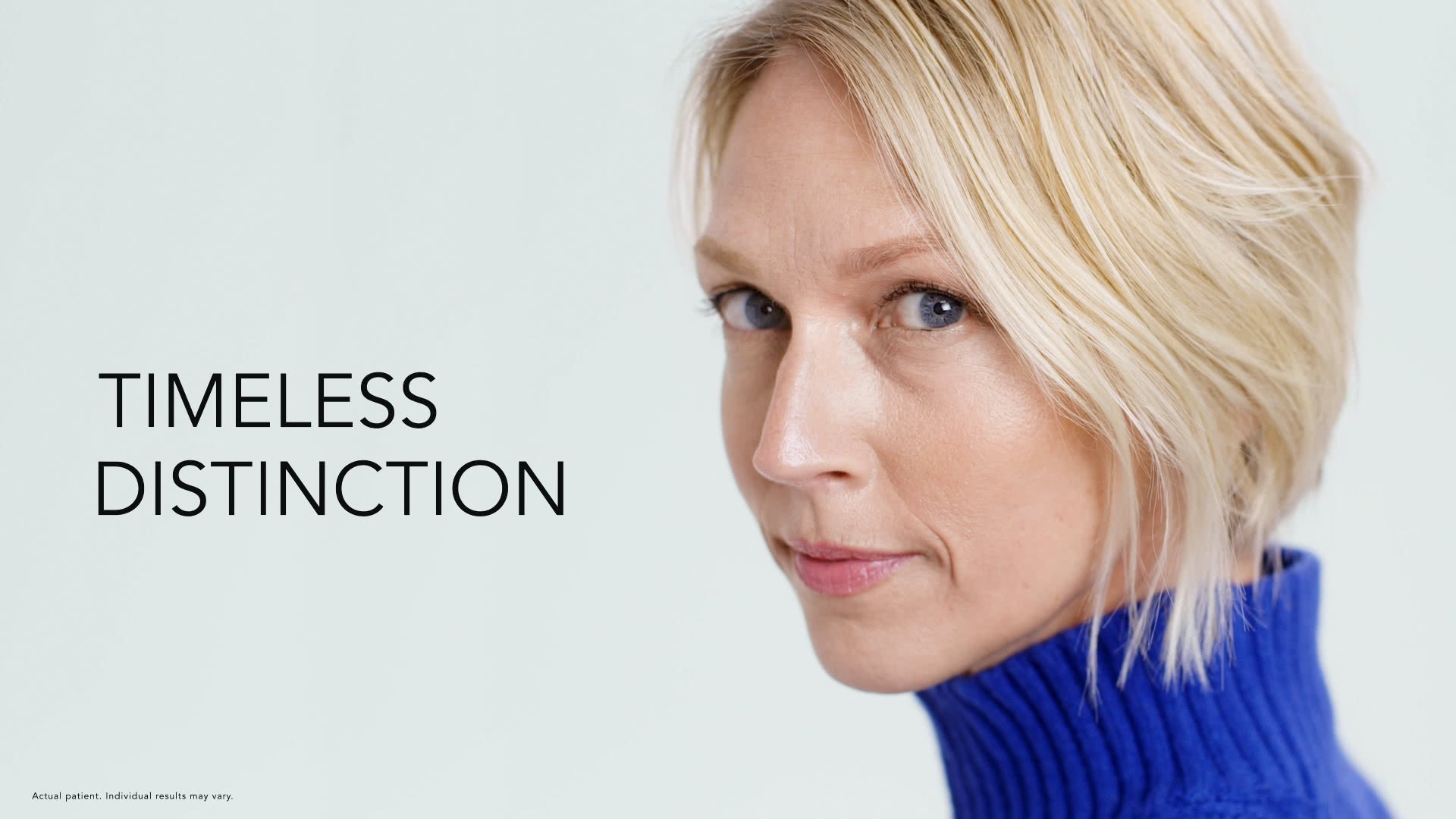 Radiesse®
Radiesse® is an injectable soft tissue filler used to correct facial imperfections that result from aging. Radiesse® restores volume to the face and stimulates the body's natural production of collagen. Collagen provides the skin with its elasticity, strength, and fullness. As the aging process progresses, the production of collagen declines, which results in the appearance of wrinkles, fine lines, and deep folds in the skin. Radiesse® improves the appearance of the skin by plumping and smoothing the surface. With the use of Radiesse®, you can revitalize and rejuvenate your appearance while still achieving completely natural-looking results. Radiesse® injections are minimally invasive and may be used in the treatment and correction of many facial imperfections. Once injected, Radiesse® produces immediate results, to achieve a more youthful and refreshed appearance all within the same day of undergoing treatment.
Reserve an Appointment

How Radiesse® can help create a more youthful appearance
It's the first and only FDA-approved CaHA portfolio that provides immediate contouring plus stimulation of collagen and elastin production.
Your skin changes over time
That's probably no surprise—but do you know exactly how? Two important components in how the skin changes over time are collagen and elastin, because they help keep facial lines and wrinkles at bay. Collagen and elastin both contribute to the skin's strength and elasticity. Unfortunately, aging and environmental factors (think sun damage) make it harder for your body to produce these components. Reduced amounts of collagen and elastin can cause facial skin to wrinkle and sag, stealing from your youthful appearance.

Upon injection, the Radiesse CaHA gel matrix provides immediate improvement
CaHA particles then integrate into your skin and create a "scaffold" that stimulates production of collagen and elastin
As the gel carrier breaks down, a firm network of collagen fibers forms
Formed collagen and elastin replaces the correction provided by the gel carrier, smoothing lines and promoting renewed skin structure.
Radiesse® Benefits
The benefits of Radiesse® are many, making it an excellent treatment in the reversal of the effects of facial aging. The natural composition of Radiesse® means allergy testing is not required because there is virtually no risk of an allergic reaction. Radiesse® may be mixed with lidocaine to minimize any discomfort experienced during the injection process. The results of Radiesse® are long-lasting, often lasting one year or more in most patients. The calcium-based microspheres and gel that Radiesse® is comprised of provide immediate results. The entire Radiesse® treatment process normally takes between fifteen and thirty minutes to complete and requires fewer injections than other dermal fillers. Another benefit of Radiesse® is that it also requires less frequent touch-ups than other dermal fillers. The most exciting benefit of Radiesse® may be the stimulation of natural collagen growth.

Whos is a candidate?
Because there are many dermal filler options available today, we will evaluate your individual needs and goals to customize a treatment plan that is completely unique to you. Radiesse® may be used to correct or minimize nasolabial folds, marionette lines, smile lines, frown lines, and a multitude of other facial imperfections. If you are not satisfied with your appearance because of wrinkles, fine lines, or deep folds around the mouth and cheeks, Radiesse® may be right for you. Radiesse® may also be used to increase the volume of the lips. To maximize results, Radiesse® may be used in conjunction with other treatments.
Frequently Asked Questions
Radiesse and Radiesse (+) are dermal fillers that are FDA-approved to smooth moderate to severe facial wrinkles and folds, such as nasolabial folds (the creases that extend from the corner of your nose to the corner of your mouth) Radiesse is also used for correcting volume loss in the back of the hands.3
Radiesse is injected under the skin in a quick procedure that can be done over the lunch hour.
Immediately upon injection, Radiesse helps smooth out lines and wrinkles.
The natural-looking results last a year or more in many patients.
Common side effects of Radiesse or Radiesse (+) include bruising, redness, swelling, pain, itching at the site of injection. For a more comprehensive list of side effects for Radiesse or Radiesse (+) refer to the patient information guides found here.
Your cost will vary based on your individual aesthetic goals and the treatment plan your aesthetic provider designs for you.